Antoni van Leeuwenhoek Professor of Computer Science at TU Delft
Symposium: The Future of Programming
On Thursday January 16 and Friday January 17 2014, TU Delft hosts a symposium on the future of programming with national and international speakers including Arie van Deursen, Brandon Hill, Erik Meijer, Guido Wachsmuth, Harry Buhrman, John Hughes, Manuel Serrano, Markus Püschel, Markus Völter, Sebastian Erdweg, Stefan Hanenberg, and Tiark Rompf. The symposium is followed by the inaugural speech of Eelco Visser on the occasion of his appointment as full professor at TU Delft.
News
March 17, 2014: We are organizing a small Symposium on Language Engineering on the occasion of Markus Völter's PhD thesis defines on June 18, 2014. Download the flyer.

February 21, 2014: Markus Völter will defend his PhD thesis on "Generic Tools, Specific Languages" at TU Delft on June 18, 2014

February 19, 2014: I will give a keynote talk on Separation of Concerns in Language Definition at Modularity 2014 in Lugano

February 10, 2014: Three Spoofax-related presentations at the upcoming Code Generation 2014 conference: Spoofax in industry, a hands-on tutorial, and our submission to the Language Workbench Challenge workshop.

January 20, 2014: Recordings of talks of symposium on Future of Programming and Inaugural address online

October 9, 2013: Paper on Understanding Software through Linguistic Abstraction for SCP

October 7, 2013: I will give a keynote talk at the software engineering track of ICT.OPEN 2013

September 10, 2013: I will give an invited talk at the Workshop on Secure Cloud and Reactive Internet Programming Technology (SCRIPT 2013) on Foundations for tier-less web programming in WebDSL

August 15, 2013: I will hold my inaugural speech as full professor on January 17, 2014

July 1, 2013: We will give a tech talk at SPLASH 2013 on interactive language design with the Spoofax language workbench

Jun 14, 2013: Appointed as Antoni van Leeuwenhoek Professor

Mar 25, 2013: Spoofax 1.1 released

Mar 24, 2013: Paper on Robust Real-Time Synchronization between Textual and Graphical Editors accepted at ICMT 2013

Feb 20, 2013: Integration of Data Validation and User Interface Concerns in a DSL for Web Applications published in SoSyM

Jan 31, 2013: NWO VICI proposal The Language Designer's Workbench awarded
Coordinates
Research
I lead the Software Language Design and Engineering research program. Our mission is to enable software engineers to effectively design, implement, and apply domain-specific languages. We are doing research in three tracks:
Language engineering: investigate the automatic derivation of efficient, scalable, incremental compilers and usable IDEs from high-level, declarative language definitions

Semantics engineering: investigate the automatic verification of the consistency of language definitions in order to check properties such as type soundness and semantics preservation

Language design: investigate the systematic design of domain-specific software languages with an optimal tradeoff between expressivity, completeness, portability, coverage, and maintainability.
Projects
Recommended Publications
Syntax definition and parsing
Language composition
Transformation and analysis
Integrated development environments
Abstractions for web programming
Current Activities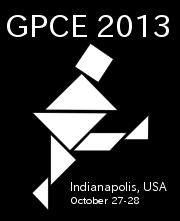 All my professional activities
Quote
MetaBorg provides generic technology for allowing a host language (collective) to incorporate and assimilate external domains (cultures) in order to strengthen itself. The ease of implementing embeddings makes resistance futile.